Product Overview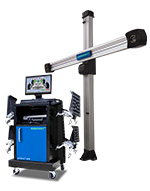 EEWA712AL
The geoliner 650 imaging alignment system is equipped with our basic software package which combines the benefits of camera technology and quality at an affordable cost. Our patented VODI Graphic Display is used with High-Definition (HD) cameras to provide visual and directional assistance to the technician during the alignment measuring procedure. The geoliner 650 will boost your shops productivity by allowing technicians to do more alignments is less time compared to conventional systems. (Shown with Optional Variable-Height Camera Support)

Click on one of the section titles to learn more about the geoliner 650 Wheel Alignment System.
Features
---
Imaging technology allows you to do more alignments in less time. The patented non-electronic shatter-proof wheel targets eliminate service calls for calibrations and wheel sensor maintenance.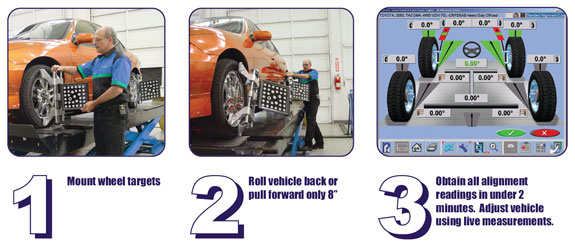 ---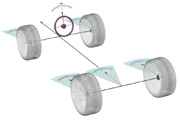 EZ-Link* software alerts the technician of OEM service and maintenance procedures related to Electronic Stability Control and Electric Power Steering systems.
OEM instructions guide the technician through the process of resetting the steering angle sensors along with other sensors as required. EZ-Link includes manual as well as electronic resets.

---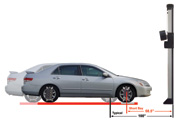 High-Definition Imaging Cameras allow for system installation within a smaller shop bay!
---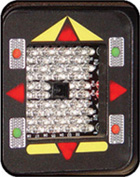 VODI™* Graphic Display - graphic overlay around each camera provides visual and directional assistance to the operator during the alignment measurement.
---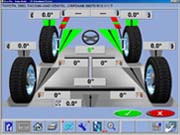 Great for performing 2-wheel alignment checks on fixed rear axle vehicles. Camber and Toe measurements in less than one minute!
---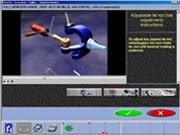 Technicians benefit from on-screen visual aids for vehicle-specific adjustments, including instructions, comments and necessary tools.
---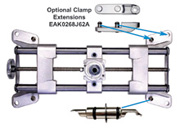 Heavy-duty chrome rods and nickel-plated screw
Thin profile tip fits most wheel/tire combinations
Extended tip with thin profile allows clamping over plastic wheel covers
Outside clamping for 15" to 24" wheels
Inside clamping for 13" to 20" wheels
Constructed from aluminum for light-weight handling. Silver finish for durability and corrosion resistance
Optional Clamp Extensions (EAK0268J62A) increase maximum clamping diameter to 28"
---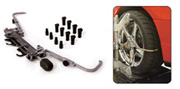 (EAK0268J63A) Allows accurate clamping without risk of scratching the wheel finish. Provides secure attachment to wheel while plastic sleeves placed over standard claws ensure proper placement and wheel protection.
---
SAI and Thrust Angle
Included Angle
Toe Out On Turns/Max Turn
Front and Rear Toe
Front/Rear/All/Zoom Readings
FrameCheck™ Light Truck Frame Angle
Initial/Final Color Printouts
Individual Camber/Caster/Toe
Front Caster (-28° to +28°)
Front & Rear Camber (-15° to +15°)
3D Animation
Video Help
A-Arm Adjustments
Adjust Camber Only
Elevated Adjustments
Rear Shim Programs
Multiple Lift Support (3)
Vehicle Specs: 25+ years
EZ-Link™*
EZ-Toe™*
Equalize Toe Warning

Adjust Front Before Rear Warning
Ride Height*
Multiple Clamp Support
2-Wheel Alignment
32 Languages
Multiple Print Formats
Custom Vehicle Specifications
Regional Specifications
Integrated Help System (PDF)
Tools, Parts, and Adjustment Instructions
Advanced Customer Database with Backup/Restore
Multiple Units of Measure
Caster and SAI on Turntables
SAI Elevated
Live Caster, Camber and Toe - Turntables
Live Caster, Camber and Toe - Elevated
NorthStar Shim Program
Light Truck Bushing
Remote Control (Optional)
Variable-Height Camera Support Controls
---
Back To Features List | Back To Top | *Patented and/or Patent-Pending Features
Specifications
| | |
| --- | --- |
| Wheel Size | 12" - 24" |
| Tire Diameter | Unlimited |
| Track Width | 48" - 96" |
| Wheelbase | 79" - 180" |
| Power Requirements | 120/230V, 1Ph, 60HZ |
Accessories
Standard Accessories
| Part Number | Description |
| --- | --- |
| 00055502000 | Steering Wheel Holder |
| 00000096000 | Brake Pedal Depressor |
| EAA0305J48B | Camera Beam Assembly |
| EAK0268J52A | Universal Wheel Clamps (13" - 24", Set of 4) and Shatter-proof Imaging Targets (2 Front and 2 Rear) |
Recommended Accessories
Optional Accessories
Optional Camera Support Configurations