Hofmann
The Hofmann Corporation, a worldwide company, began in 1931 as a privately-owned company located in Pfungstadt, Germany. Hofmann USA began manufacturing, distributing and servicing its products in North America in 1969. In 1997, Hofmann Corporation was purchased by Snap-on, Inc. Since this purchase, Hofmann has taken steps to strengthen its position in the marketplace with a solid feature-packed product offering. Combined with our sister company in Canada, Hofmann Balancing Techniques, Ltd., we have become a major supplier of professional shop equipment to the automotive aftermarket in North America. Today, we have in place a nationwide factory-trained independent sales and service network to support our products. The Hofmann training center, located just outside of Little Rock, Arkansas is fully equipped to train factory representatives, service technicians, distributors and automotive technicians on the latest products available.
Our Mission: To be the most valued productivity solutions in the world!
Beliefs
Values
Vision

Non-negotiable Product and Workplace Safety
Uncompromising Quality
Passionate Customer Care
Fearless Innovation
Rapid Continuous Improvement

We demonstrate Integrity
We tell the Truth
We respect the Individual
We promote Teamwork
We Listen

Brands of Choice
Employer of Choice
Franchisor of Choice
Business Partner of Choice
Investment of Choice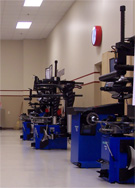 State-of-the-Art Training Facility
The Jack D. Michaels Training Center located at Snap-on Equipment offers training on automotive service equipment, customer service and effective sales strategies. Classes are available to direct sales agents, distributors and end-users of Snap-on Equipment Products worldwide. The state-of-the-art facility includes classrooms equipped with the latest computer technology, an expansive service training area and an engineering lab.
The training center operates 42 weeks a year with classes accommodating up to 20 trainees per session.